Nicholas Walker aka Niklaus Velker
Nicholas Walker is a resident of Canberra. He joined the NSW Young Nationals on 12 April 2018. He uses the pseudonym Velker on social media, however in the image below you can observe that Velker and Walker are one in the same.
Nicholas Walker with his freshly shaved conehead skinhead, with fellow NSW Young Nationals stacker Lucas di Cicco.
In this sequence of images he makes no particular effort to hide his enthusiasm for Nazism and Fascism. The reference to "14" is in regard to 14 words — "We must secure the existence of our people and a future for white children". "88" refers to the eighth letter of the alphabet (i.e. HH) standing for Heil Hitler.
And more of his "boots and braces" posturing while hilariously shaving his head.
Aside from the innumerable interactions online in groups and pages between Nicholas Walker and Clifford Jennings (CW Jenn) you can see that they very much interact in real life, here bunking together prior to the Young Nationals Conference.
He associates in real life as well with people who are connected to both Young Nationals and ultra-right causes. Here he is attending the engagement of Neo-Nazi Lisa Sandford and Justin Beulah.
And here attending Mathew Grant (aka Henry Grant) Eureka Youth League micro Fuehrer and Christelle's wedding (third from left).
Aside from his abhorrent political views here is a glimpse into the person that is Nicholas Walker. In relation to an attempted abduction of a young woman Walker asks "what if he was just trying to put her in a dog cage tho (sic)".
Stating The New Guard propaganda "needs more sunwheels" before his good friend Matthew Grant will be happy with it: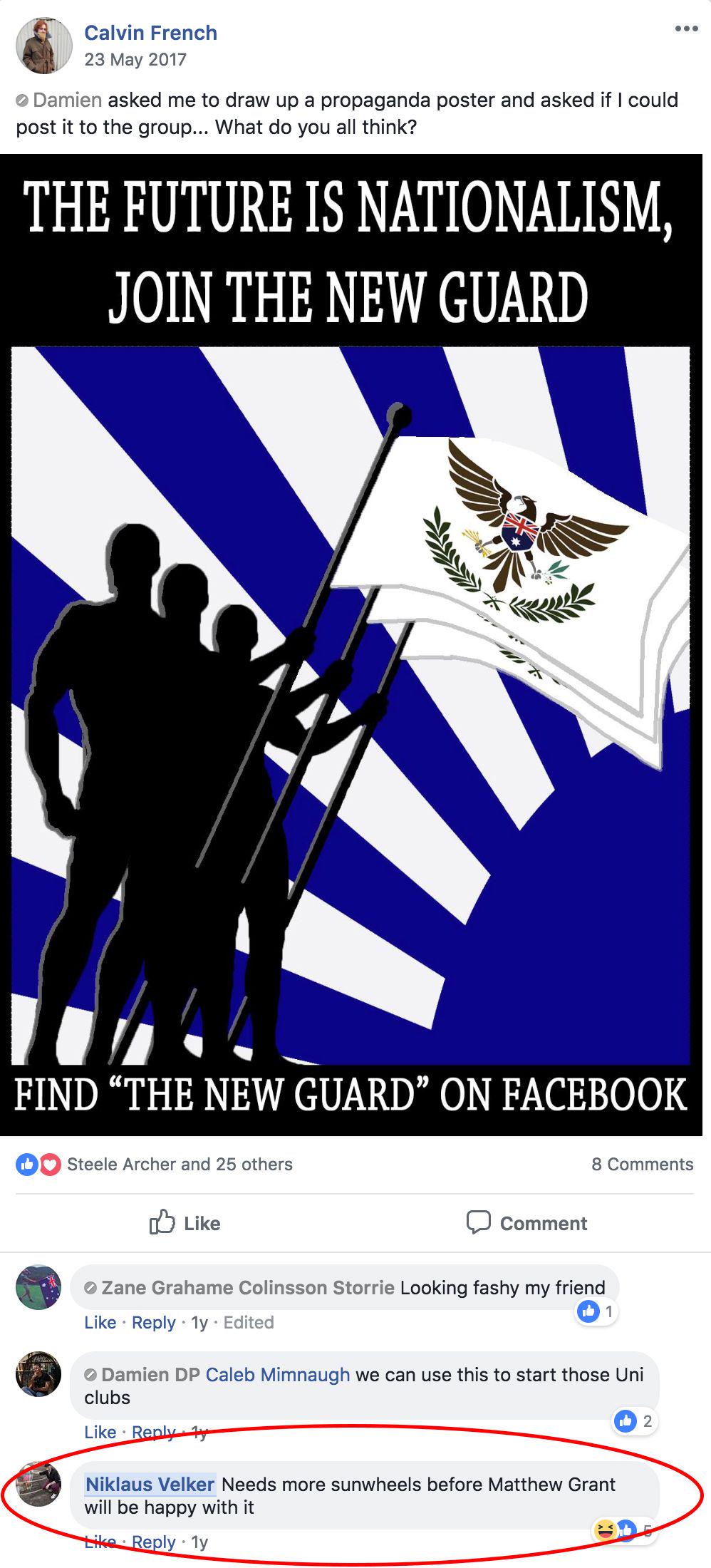 Nicholas has a cute hobby of drawing the Sonnenrad and other Nazi imagery. The Neo-Nazi version of mindfulness colouring-in books.
In June 2017 in The New Guard Facebook group Nicholas was talking about inevitable violence between the left and right, or in his mind, "anti-whites" and White Supremacists.
On Nicholas' reading list is The Nest Leader's Manual, by Corneliu Zelea Codreanu, who he considers "one of the greatest fascist leaders". Corneliu Zelea Codreanu attracted renewed public attention in August 2017 when a White Supremacist wore a t-shirt with his face printed on it to the "Unite The Right" White Supremacist rally in Charlottesville, Virginia — where fascists and Neo-Nazis violently assaulted counter-protestors, and one murdered Heather Heyer with a car.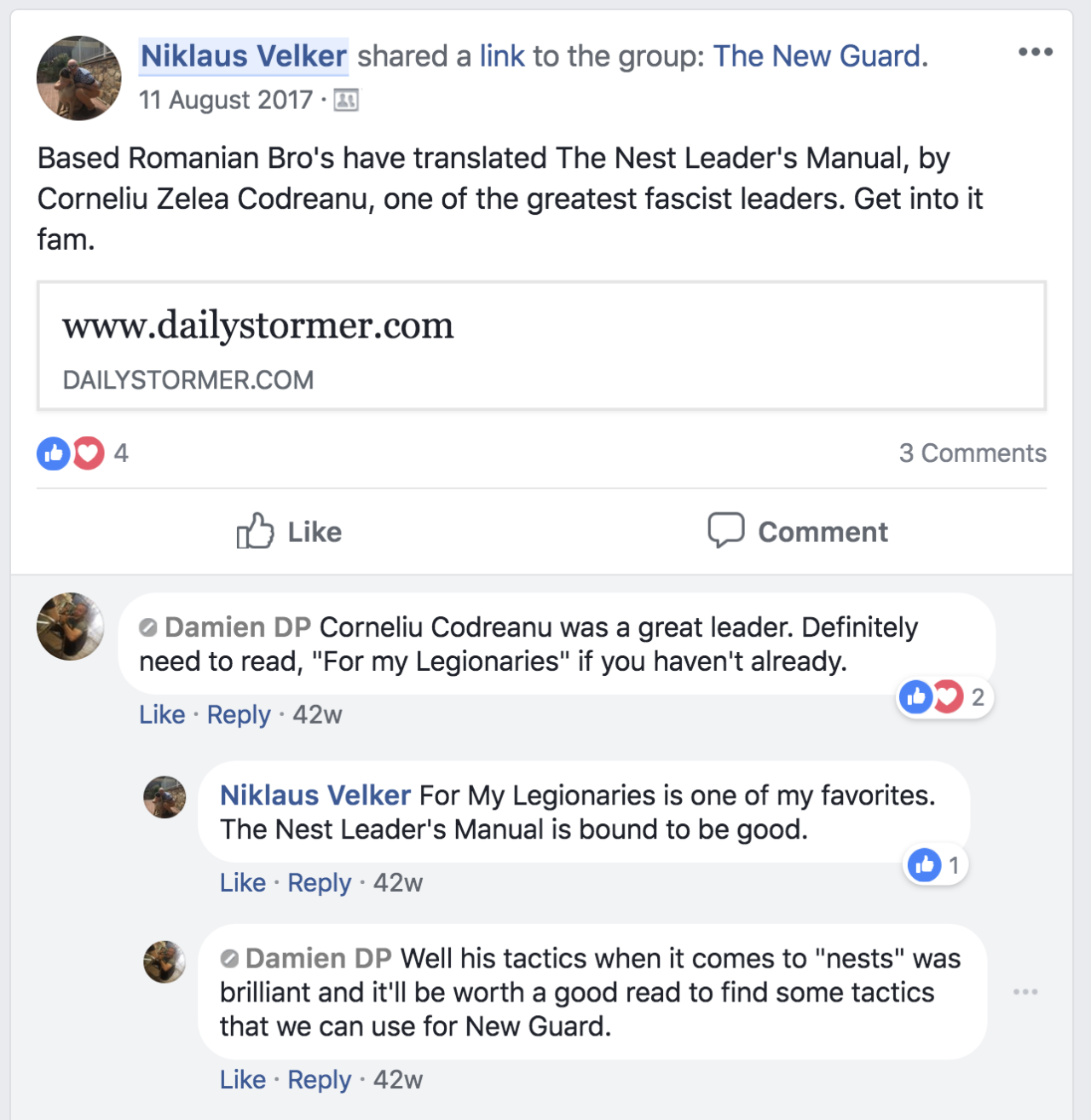 We see Nicholas echoing the sentiment "fascism has become my religion". You'll note just above Nicholas' comment is The Unshackled's Morgan Munro "I'm not a fascist, I'm a centralist (sic)", volunteering his writing and film-making "skills" to the movement.
Nicholas is, unsurprisingly, a fan of Brisbane's "Nazi Sparky" Simon John Hickey of Smerff Electrical, who sponsors The Daily Stormer.
If you were wondering, Nicholas' favourite fascists are Mosley, Codreneanu and Hitler. Aleksander Rodzaevsky rates a mention too.
Nicholas Walker panicked earlier this week and nuked his entire Facebook account, creating a new one and uploading a fresh selfie. We're not sure what the point of nuking your Facebook account riddled with Neo-Nazi posts and themes is, if your latest selfie features a necklace of the Black Sun (Sonnenrad):
Here's his friends from the NSW Young Nationals expressing their support through "Likes" (never abandon a brother), including fellow infiltrators and stackers Tom Hooper (Thomas Hopper aka Thomas Hopper) and Lucas di Cicco:
Lastly, here is Walker darkly expressing support for the Lads Society with a vague threat of something nasty in the future.
We can be contacted at thewhiterosesociety@protonmail.com.
We are aware that each of these profiles are image heavy. For those with vision impairment or using screen readers, we are endeavouring to write image descriptions for each as soon as possible. If you'd like to be notified as soon as image descriptions are available on these posts, please e-mail us at the address above.