Max Newsome ('Matt') and Action Zealandia
Update on 13 March 2020:
"The New Zealand Defence Force says a man who reportedly posted online about forming a terror cell in New Zealand is no longer serving in the military.

And it says it is confident the Defence Force has the systems in place to weed out any extremists in its ranks, after concerns that the Defence Force was being infiltrated by far-right activists. ... A NZDF spokeswoman confirmed that the man enlisted in the NZ Army as a private in 2014 but said he left in December 2016. His reasons for leaving the military were not known."

NZ Defence Force says white supremacist is a former soldier by Isaac Davison, NZ Herald, 13 March 2020
We believe that misrepresenting yourself as still being enlisted in the military to neo-Nazis in chat rooms, despite leaving NZDF four years ago, may make you a valour thief Max Newsome.
See also:
NZDF hasn't reviewed extremist procedures by Marc Daalder, Newsroom, 12 March 2020
Over the last week, Action Zealandia members have been brought to the attention of authorities by the White Rose Society and anti-fascist researchers in Aotearoa including ParaDoxx. We have seen Action Zealandia members threaten worshippers at the Al Noor Mosque in Christchurch, share confidential police memos and, more recently, an anonymous member 'Matt' was exposed for planning to create a neo-Nazi terror group similar to American accelerationist neo-Nazi groups such as the Atomwaffen Division and The Base.
Action Zealandia member planned terror cell by Marc Daalder, Newsroom, 9 March 2020
We would like to introduce you to 'Matt', a leading figure from Action Zealandia who we believe is better known as Max Newsome from Palmerston North.
Meet 'Matt'. Meet Matt and Max Newsome's eyebrows.
'Matt' is a leader of Action Zealandia based in Palmerston North. He first came to our attention in a small, Australian-based neo-Nazi 'prepper' Telegram group chat where he was an admin. He frequently shared actions by his group Action Zealandia into the chat (gallery). He talked about acquiring firearms on the black market and he posted photos of his camping trip (gallery):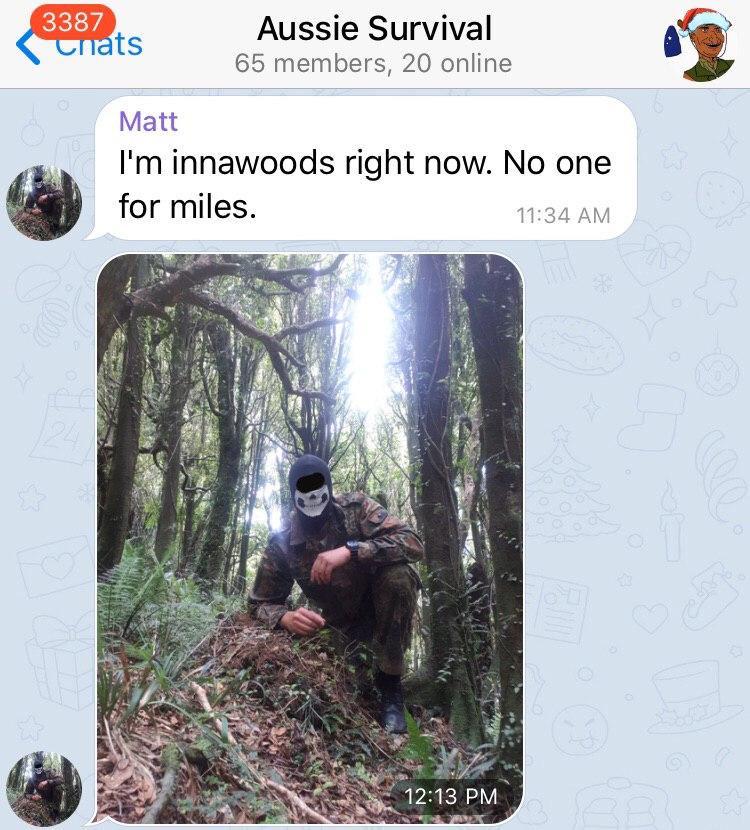 Action Zealandia and the Dominion Movement
Action Zealandia is a New Zealand neo-Nazi group who has come under increasing pressure from anti-fascists, anti-racists, and the state since late 2019. This was when one of their members, a New Zealand Defence Force (NZDF) soldier, was arrested last December. The Linton soldier is subject to a name suppression in New Zealand and has since been charged with an "unauthorised disclosure of information" that is "likely to prejudice the security or defence of New Zealand".
In the last week, Action Zealandia has again come to the attention of authorities and the media. 19-year-old member Sam Brittenden was arrested in relation to a threat to Al Noor Mosque in Christchurch which was distributed on a neo-Nazi channel in the encrypted app Telegram based in the Ukraine. 'Matt' was central to the effort to circulate this terror threat on Telegram (see gallery). Of course Al Noor is one of the mosques where an Australian neo-Nazi terrorist massacred 51 Muslim worshippers a year ago this week.
Action Zealandia emerged only months after the neo-Nazi group Dominion Movement shut down its activities and website in the wake of the Christchurch terrorist attack. Action Zealandia has tried to project a careful public image as an "identitarian" group and, unlike the Dominion Movement, has shied away from more explicit Nazi imagery. Despite Action Zealandia's "wholesome" activities such as gym workouts, hikes, and rubbish pickups, the recent exposure of three members to the public has revealed a more sinister and violent ideology. These members have networked with international neo-Nazi terrorists. They have fantasised and planned for accelerationism and "the boogaloo" (race war). They have promoted neo-Nazi James Mason's book 'Siege' as reading material. They've discussed buying guns on the black market. And they have made violent threats while LARPing in a 'Siege' or skull mask during a drive-by of the Al Noor mosque the week before the first anniversary of a terrible terrorist attack.
The Dominion Movement formed in February 2018 and was the first Identitarian group in New Zealand. It was modelled on the American Identitarian group Patriot Front and also the Australian Neo-Nazi group Antipodean Resistance. Until the Christchurch terrorist attacks, the Dominion Movement grew rapidly, forming branches in Auckland, Hamilton, Palmerston North and Wellington in the North Island as well as Nelson and Christchurch in the South Island. Its growth came through engaging in postering and stickering runs across New Zealand, organising group nature walks, banner drops, as well as participating in solidarity actions. Members "held a "Save the Boer" banner at an All Blacks v South Africa match in Wellington, referring to a false far-right claim that white Afrikaner farmers are being systematically murdered."
The Dominion Movement also built international connections which included organising security for Canadian white supremacists Lauren Southern and Stefan Molyneux's thwarted tour to New Zealand in August 2018. After that failure, Dominion Movement members (including the Linton soldier) appeared on the Scottish alt-right Youtuber Millenial Woes' podcast in December 2018 as well as on the Australian fascist podcast The Dingoes in February 2019. Members also formed alliances with neo-fascist groups around the world, and met with Australian Identitarian group Identity Australia which is now known as Australian Revival in October 2018. The Dominion Movement met with Scandinavian neo-Nazis from the Nordic Resistance Movement in January 2019.
The Christchurch terrorist attacks forced the Dominion Movement to immeditely go underground. However, it only took four months for some of their members to reconvene and form Action Zealandia. They started small, portraying themselves as an all-male, white, patriotic fraternity such as the Lads Society in Australia. The 'new' group aimed to organise beach clean-ups, nature walks, and trips to historical landmarks. A re-branding of the now defunct Dominion Movement, Action Zealandia grew quickly and formed branches in the same locations (although the Wellington and New Plymouth branches didn't last long). The group really started to get going from September 2019 by engaging in postering and stickering runs across New Zealand, and in cleaning up graffiti. Less wholesome activities included vandalising National MP Jiang Yang's electorate office in Epsom and National MP Nick Smith's electorate office in Nelson.
The name of Brittenden's group links today's alt-right to old wars of conquest against Maori. Conceived as a relative of Britannia, Zealandia was a patron goddess of Pakeha. Her statue stands on an Auckland memorial to soldiers who fought 'rebel' Maori. In 2018 she was tomahawked https://t.co/yA17T6NrpE pic.twitter.com/bkxHGzbnCZ

— Scott Hamilton RTM (@SikotiHamiltonR) March 5, 2020
Max Newsome alias 'Matt'
Note: 'Matt' is wearing an NZDF army beret.
While 'Matt' has never provided us with a full face dox, his posts in Telegram chats have provided us with many clues as to his identity. These include his life history, his distinctive eyebrows, the bridge of his nose, and his build. His Telegram profile pictures (see gallery) clearly confirm his alignment with both Action Zealandia and the now-defunct Dominion Movement. In order to identifiy this core member of both groups, we consulted with Paparoa, who have been tracking Action Zealandia and the Dominion Movement for some time. They put forward several possible candidates for 'Matt.' After much analysis, White Rose Society has settled on the one person with the same distinctive eyebrows and facial structure: Max Newsome.
Max Newsome, alias 'Matt', is a mid-20s man from Palmerston North who left school early to join the army, probably around 2014 or 2015 when a close friend of his also enlisted (not the NZDF soldier who has been detained and charged).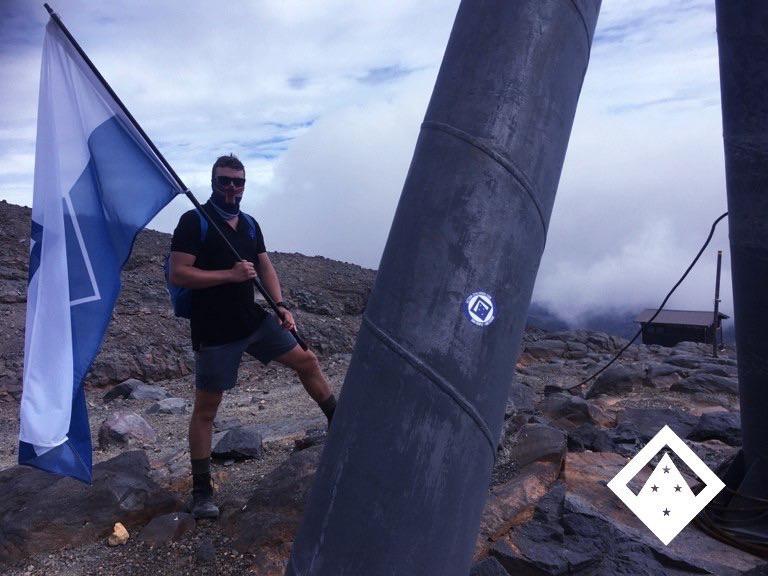 We have so far been unable to confirm whether Newsome is still serving in the NZDF as they have refused to comment. We note that in a Telegram chat as 'Matt', Newsome reported he was on a 'no-contact order' with the detained NZDF soldier.
Max Newsome came to the attention of anti-fascists in Aotearoa after he attended a Free Speech Rally in Wellington on 14 July 2018 with other members of Dominion Movement including the detained NZDF soldier, Mark Urry, David Toomath and Jarrad Randell-Walsh. This rally was in response to calls in Aotearoa to de-platform Lauren Southern and Stefan Molyneux ahead of their tour. (It was also timed to coincide with the jailing of British far-right activist Tommy Robinson who violated a court order and thus endagered justice for victims of sexual abuse).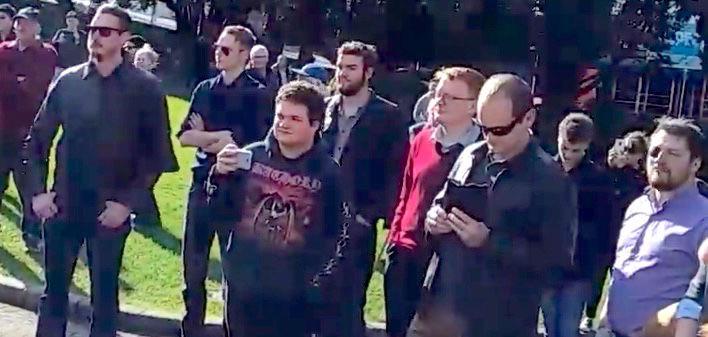 Max Newsome and 'Matt' both have connections to the New Zealand Army, as shown by the military clothing they wear. Some of this clothing is not available to the public.
'Matt' and Max Newsome both travelled to Australia at the beginning of February 2020. Max was there for a family wedding. 'Matt' mentions being at Sydney Airport during the same period.

Max Newsome's Facebook Likes show a degree of radicalisation and engagement with far-right groups. He also follows the fascist, Identitarian organisation 'Australian Revival' (formerly 'Identity Australia') on Instagram. This is the group that Dominion Movement met with prior to being rebranded as Action Zealandia. Of course Max was a follower of Dominion Movement on Instagram before its account was deleted.
Max was also followed on Instagram by Sam Brittenden, the Action Zealandia member who recently made a terror threat to the Al Noor mosque. 'Matt' made a sympathetic reference to Brittenden's arrest. You can read the full chat with 'Matt' distributing the terror threat against the Al Noor Mosque and talking about his 'boy' who did it at this gallery.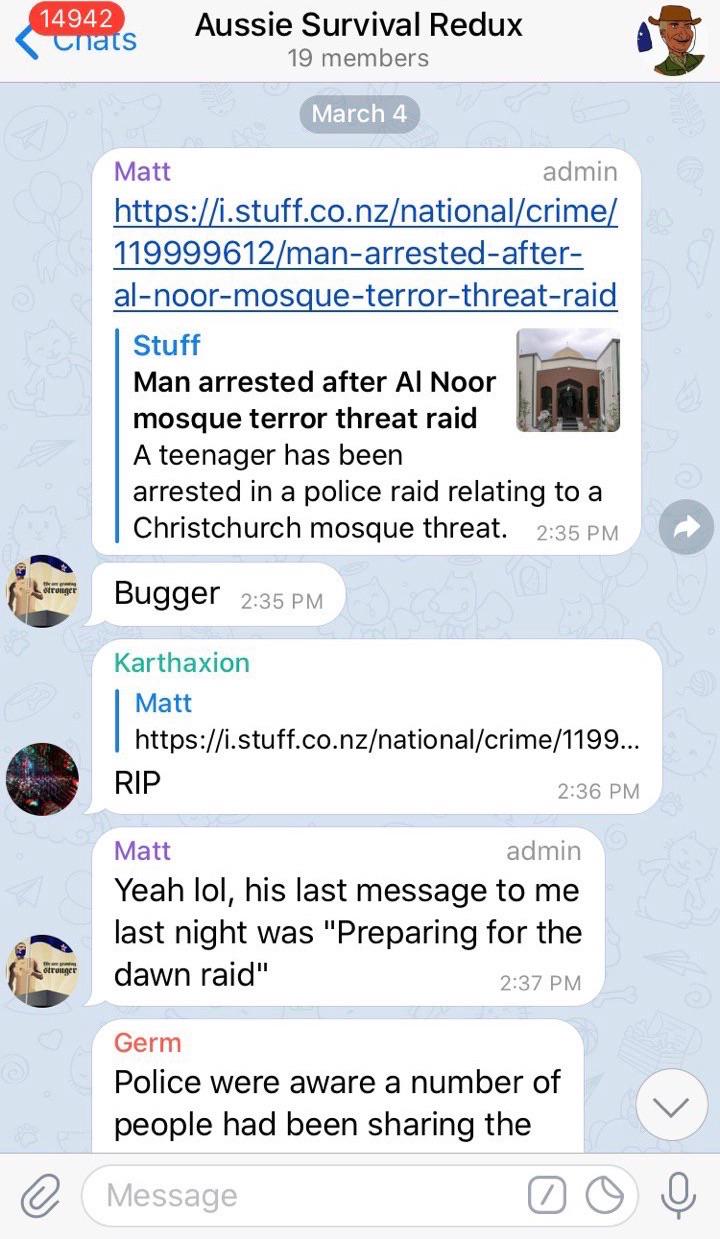 'Matt' recently celebrated the release of Christchurch neo-Nazi Philip Arps from prison.
'Matt' mentioned meeting with Nordic Resistance Movement in a Telegram chat for supporters of the group. You can read screenshots of his chats in the NRM Supporters Chat at this link, this link and this link. Dominion Movement also met with Nordic Resistance Movement in January 2019, reporting it on this archived monthly report. Photos from the meetup were posted along with photos of group bonding joint stickering session:
Marc Daalder wrote:
"In other Telegram channels, Matt chatted with members of the far-right Nordic Resistance Movement, which is banned in Finland and has conducted bombings and attacked anti-racism and LGBT rights marches in other Nordic countries. He invited NRM members to visit New Zealand, promising to "take you on a pilgrimage route a saint did last year", referencing a popular far-right meme depicting the alleged Christchurch gunman as a saint."
Max Newsome's Instagram (made private since the story on Newsroom about 'Matt'), includes a photograph of him wearing a Wargus Christi singlet (the same far-right "male body culture" organisation that the Linton soldier belonged to).
Earlier this week, an Action Zealandia security manual was leaked by a member of Action Zealandia via Paparoa. Recently arrested Action Zealandia member Sam Brittenden appears to have heeded the advice of this manual in refusing to cooperate with a police search. However, even the intricacy and sophistication of the security manual failed to help Action Zealandia avoid detection.
Leaked 'security guidelines' reveals neo-Nazi plans to avoid detection by Thomas Manch and Florence Kerr, Stuff, 10 March 2020
Could this be Sam Brittenden from a recent Action Zealandia video climbing Mount Ruapehu?
Accelerationism
'Matt' posted in a Telegram chat that he wanted to send a message of support and a prayer to members of The Base after a number of Base members were arrested for conspiring to murder an anti-fascist couple, as well as planning to disrupt the recent Virginia gun rights rally by shooting into the crowd and prompting a shooting spree. Further, 'Matt' also wrote on Telegram that he sought to start an Atomwaffen Division-esque network of terror cells across New Zealand. You can read 'Matt's' chats with an Atomwaffen Division Florida cell leader at this gallery. So far, the Atomwaffen Division has been responsible for over five murders, including that of a gay Jewish teenager, Blaze Bernstein. 'Matt' expressed similar violent homophobic views, including stating that he wanted to throw bricks into the crowds at Pride.
'Matt' casually chatted (gallery) with a leader of Lads Society Queensland and former Antipodean Resistance associate 'Graham Fowler' about 'Graham's' revenge fantasies to murder New Zealand journalist Patrick Gower. 'Matt' and 'Graham' planned to meet in New Zealand later this year.
Neo-Nazi accelerationist thought can be traced to James Mason, whose book Siege has been seminal for neo-Nazi accelerationists worldwide. In Siege, Mason proposes a strategy of decentralised cells enacting widespread white supremacist violence for the goal of setting off a 'race war'. Accelerationism is an ideology that has been accepted by many neo-Nazis internationally. Groups like The Base and the Atomwaffen Division in the US, Antipodean Resistance in Australia, and National Action in the UK, which originally formed on fascist forum IronMarch have embraced Siege culture and accelerationism. More recently, men's only clubs like Australia's Lads Society and Identitarian groups such as Action Zealandia and Australian Revival/Identity Australia have come to act as feeder groups into this insidious ideology.
Feeder groups can appear innocuous but are dangerous due to how effective they can be at radicalising members and mobilising them into action. Some examples include fascist gyms and Identitarian groups which act as a funnel into fascist violence. Far-right survivalist/'prepper' groups are at the more extreme end of this scale. Members start with 'relatively harmless' direct action such as picking up rubbish before participating in more violent activities like graffiti attacks against minorities or stickering with hate speech. At the more extreme end, groups have planned and carried out sabotage and even murder. Following the neo-Nazi accelerationist/Siege mentality, these groups operate as a means of building the capacity of neo-Nazi movements for widescale violence and terrorising vulnerable communities.
'Matt' spoke about creating a group called 'Southern Order' (see gallery) ​​​​​which never went public. It is unclear whether the group existed or if 'Matt' was attempting to accelerate the extremity of the political ideology within Action Zealandia. Considering 'Matt's' lone camping trips, his fantasies about violence against queer people, his weapons training, and his statements of violent intent ("I'm fuckin amped right now I wanna kill"), there is a clear and present danger that he is mentally and physically preparing himself for future "direct action" involving violence. 'Matt' has already mentioned his willingness to access weapons via the black market.
'Matt' only appears to have backed away from accelerationism after two of his comrades were arrested.
Atomwaffen Division encouraged members to join the armed forces for weapons training. The Base actively recruited members with military experience. It remains to be seen if Action Zealandia similarly encouraged newer members to join the military for weapons training in preparation for a 'race war'. First, the Linton soldier, now 'Matt' AKA Max Newsome.
We hope the New Zealand Defence Force is able to confirm whether Max Newsome, a violent neo-Nazi with international connections to terrorist groups, is currently enlisted in the army or the Reserves.
This researched was conducted and written in collaboration with anti-fascist researchers in Aotearoa including ParaDoxx.
We hope our research and writing serves to illustrate the international nature of accelerationism in the Pacific Region. Our ongoing research (forthcoming) on Australian (and some New Zealand) neo-Nazis and their groups reveals intimate connections to Atomwaffen Division, The Base, National Action, Azov Battalion, Order of Nine Angles, Nordic Resistance Movement and others. These are violent groups which need to be designated international terrorist organisations.
If you would like to provide information or tip-offs on any of the groups or individuals named or who feature in photographs in this post, please e-mail Paparoa at files@paparoa.org or us at thewhiterosesociety@protonmail.com. We are especially interested in Max Newsome, Sam Brittenden, Action Zealandia and the Dominion Movement, and the individuals (named and unnamed) featured in group Dominion Movement photos.
Our love and solidarity to the Muslim community in Aotearoa and to all victims and survivors of white supremacist violence globally.
Never Again.
Enter your email below to subscribe to our blog and get an email whenever we publish something new.